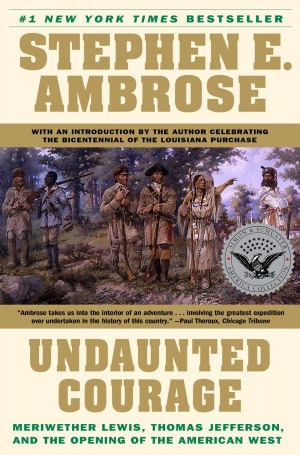 On the day before my vacation began last week, I was speaking with my manager at work about traveling and adventure and the like. He asked if I had ever read "Undaunted Courage" by Stephen E. Ambrose. It's a history of the Lewis and Clark Expedition, beginning with the politics of it, Merriwether Lewis's relationship with Jefferson, and continuing with the expedition itself. My boss highly recommended the book. I picked it up on my lunch break to be my vacation read.
Now, I am starting on the opposite coast that Lewis and Clark began, but a good part of my journey followed the Lewis & Clark trail. Specifically, the part that occurred in Northern Idaho.
Given that I was allowing myself 2 days to go 800 miles, I had time to take the scenic route, US Highway 12, from Lewiston, ID to Missoula, MT.
As I drove down US 12, I passed several famous sites from the Lewis & Clark journey: The Long Camp, where they stayed for 3 months; Canoe Camp, where they built the canoes that would take them down the Clearawater River, the Snake R., and finally onto the Columbia (which we saw last episode). I didn't stop at these sites, and I regret that now that I'm done and continuing to read about their journey. I needed to get to my first campsite! It was first-come-first-serve at the place, and I was worried I may not get a site! Turns out, the place was mostly deserted.
See, this part of Idaho is a sparsely populated part of a sparsely populated state. I drove Highway 12 and saw 3 or 4 cars an hour in either direction.
As you heard in the video, I was lamenting about the lack of my radio choices out there in the foothills of the Bitterroot Mountains. Christian Country or Fox News radio were pretty much it. This theme continued as I traveled eastward. I listened to more right-wing Fox newstalk radio this last week than I had in my whole life.
Now, this may upset some of my liberal friends, but I came to a conclusion after listening to hour after hour of this right-wing babble. It's pretty much the same style and verbiage as left-wing babble. I'm sorry, but it's true. Rush Limbaugh sounds just like Ed Schultz, but coming from the opposite side. Ann Coulter and Randy Rhodes say the same things. Bleep out the words Obama, Romney, liberal, conservative, Republican and Democrat, and you'd not know which political agenda the speaker was coming from.
After the listening to this stuff, I needed to re-connect with my Progressive soul… so with nothing to do in my van in the middle of nowhere, I made this song, Romney the Bain Man.